New Volvo XC40 For Sale In Lexington, KY
Introducing Luxury SUV Excellence
The new Volvo XC40 for sale offers a fresh redesign for the 2023 lineup, including new trim levels, theming options, and more. Here's a closer look at what's new, what you can expect inside and under the hood, and the exterior paint colors – all features that combine to offer you a refined and sophisticated drive every day.
New Volvo XC40 Trim Levels
There are three trim levels available for the 2023 Volvo XC40:
Choose among the Dark and Bright themes on the Plus and Ultimate trim to add either a high-glossy black accent or a chrome-colored strip to your new Volvo XC40. Your Volvo XC40 B4 Core or Volvo XC40 B5 Core won't have these theming options, but you'll still have ample choice for dazzling exterior paint colors.
Jump inside the base trim, Core, to take advantage of standard Cross-Traffic Alert, a power tailgate for easier loading, and access to built-in Google Assistant™ for seamless audio and navigation control. The Plus trim unlocks a little more, like a Laminated Panoramic Moonroof with Power Sunshade, remote keyless entry, and Park Assist for the rear and front.
The Ultimate trim offers the most, with a premium Harman Kardon® sound system, Pilot Assist for even higher safety standards and better navigation, and a 360-degree surround view camera to prevent dents, bumps, and scrapes.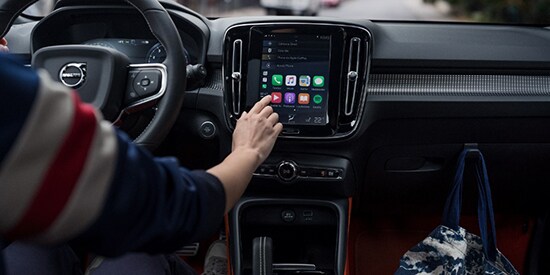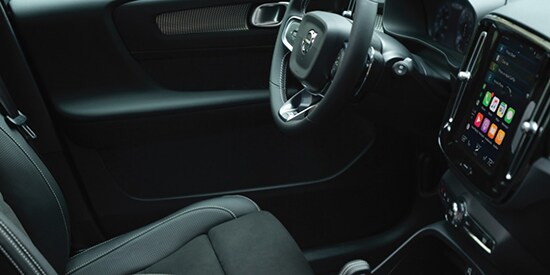 New Volvo XC40 Colors
Besides the luxury features inside each trim, you'll also have ample coloring and theming options. For example, choosing a Volvo XC40 B4 Plus Dark or Volvo XC40 B5 Plus Dark will accent your already sleek vehicle with a high-gloss black strip to outline your window line and some front grille features. Opt for the Volvo XC40 B4 Plus Bright or Volvo XC40 B5 Plus Bright for a chrome strip, which will work elegantly with darker or muted colors in the color lineup.
Theming colors aren't the only customization choice. Choose among nine available exterior paint colors:
Crystal White
Onyx Black
Fusion Red
Thunder Grey
Sage Green
Fjord Blue
Silver Dawn
Bright Dusk
Black Stone
Combine theming options and paint colors to make your new Volvo XC40 for sale look exactly as you want it. Consider opting for a Volvo XC40 B4 Ultimate Bright theme option with Black Stone or Onyx Black for a pop of contrast that will garner attention. Consider grabbing a Volvo XC40 B5 Ultimate Bright in the Sage Green or Thunder Grey tone for a radiant look.
Alternatively, grab a Volvo XC40 B4 Ultimate Dark theme SUV with Onyx Black or Black Stone for a uniform ride that offers a mysterious aura. For a rugged and adventurous feel, you may also like the Volvo XC40 B5 Ultimate Dark in Fjord Blue or Fusion Red.
New Volvo XC40 Interior
The Volvo XC40 is a sleek addition to our new Volvo SUVs for sale in Lexington, KY, and includes a noteworthy interior. Enjoy access to a 12-inch instrument cluster on your dashboard, a 9-inch touch-screen display, and lane-keeping assistance. Keep your passengers engaged with an available power moonroof with a power sunshade and a comprehensive sound system.

Shop the New Volvo XC40 for Sale at Quantrell Volvo
Make us your premier Volvo dealer in Lexington, KY, to get your hands on an SUV that reigns supreme in the luxury sphere: the new Volvo XC40 for sale. With the new Volvo XC40 colors and a refreshingly new Volvo XC40 interior, this vehicle can suit your lifestyle needs for a spacious and appealing SUV that checks all the boxes.
Frequently Asked Questions
Is the Volvo XC40 a luxury car?
The Volvo XC40 is a luxury SUV, as are all Volvo models in the 2023 lineup. Inside the Volvo XC40 SUV, you can expect a robust collection of safety features, driver assistance factors, and interior comfort amenities that'll turn even the most mundane errands into an exciting adventure. Enjoy a choice of upholstery options, a premium sound system, and a crisp, engaging infotainment center.
What gas does a mild-hybrid Volvo XC40 take?
The Volvo XC40 takes premium gasoline, usually the 91 or 93 button when you pull up to the gas tank. The number of the gasoline button is the octane rating. Unleaded regular gas is the usual fuel type for regular cars, SUVs, and trucks on the road, but luxury vehicles – like Volvo models – may require higher octane gas to unlock peak performance.
Does the Volvo XC40 have head-up display?
The Volvo XC40 doesn't include a Graphical Head-Up Display. However, this luxury mild-hybrid SUV has a 12-inch instrument cluster to help you keep tabs on your current speed, fuel tank capacity, and maintenance alerts with ease. A 9-inch center touch-screen display is also standard to help you stay engaged with audio services, seamless navigation, and more.
Discover Other Volvo Cars & SUVs For Sale in Lexington, KY:
1Prices shown are Manufacturer's Suggested Retail Price (MSRP), Base Price or Starting At price and excludes destination fees, taxes, title, license, and registration and/or electronic filing fees, dealer fees.
Hours
Monday

8:30 AM-6:00 PM

Tuesday

8:30 AM-6:00 PM

Wednesday

8:30 AM-6:00 PM

Thursday

8:30 AM-6:00 PM

Friday

8:30 AM-6:00 PM

Saturday

9:00AM-6:00PM

Sunday

Closed
Contact Us Today
* Indicates a required field