Volvo XC90 & XC60 Trailer Hitch: Tow Accessories
A genuine Volvo trailer hitch is a practicality-enhancing accessory that unlocks a new realm of capabilities. It'll let you use your Volvo SUV's powerful towing capacity and carry all the gear your next adventure demands. A Volvo tow hitch is designed to work with your vehicle's sleek body lines to boot.
Learn more below, and contact Quantrell Volvo Cars to order and find installation for your next Volvo trailer hitch.
Why Buy a Genuine Volvo Trailer Hitch?
Ordering a trailer hitch from our catalog of genuine Volvo accessories offers something special. Aftermarket accessory designers have to create a trailer hitch that can fit a wide range of different vehicles; Volvo accessory designers can focus on one vehicle at a time.
The people who design genuine Volvo trailer hitches work with those who designed your Volvo vehicle. You can be confident that you're getting a hitch that will provide a precision fit without the need for headache-inducing modifications. A Volvo trailer hitch offers uniquely-innovative features that the aftermarket alternatives lack.
With style, quality, precision, and distinct functionality, a genuine Volvo trailer hitch enhances every moment of your towing experience.
Volvo XC60 Trailer Hitch Options
A genuine Volvo XC60 trailer hitch is a foldable trailer hitch. This unique hitch is something that other SUVs typically won't offer, and it goes the extra mile to make towing easier while preserving the sleek body lines of your Volvo XC60.
It retracts under your Volvo XC60 SUV's rear bumper when you're done towing and folds back out with the push of a button. However, there are a few options to explore as you search for your perfect Volvo trailer hitch.
To do so, you'll need to keep in mind the configuration of your Volvo XC60, as the four Volvo XC60 tow hitch options are designed for use with certain exterior and mechanical features.
The first thing to note when browsing the Volvo folding trailer hitch selection is whether your Volvo XC60 is equipped with the optional exterior styling kit. Two of these trailer hitches will be able to be installed with said kit's skid plate and dual-tailpipe bumper, while the other two will not.
The other aspect is whether your Volvo XC60 has the available air suspension system; this cloud-like suspension will also affect the required Volvo trailer hitch layout.
You will also need to order the trailer hitch ball accessory to get towing, but once you do, a new world of stylish gear-hauling awaits.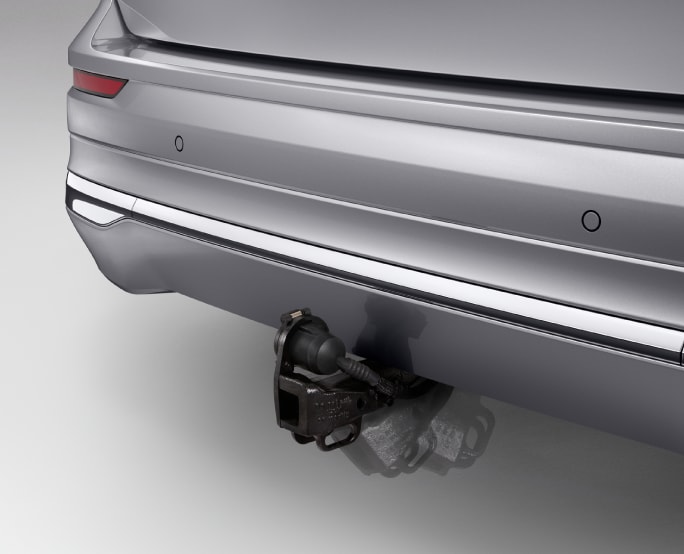 Volvo XC90 Trailer Hitch Options
The Volvo XC90 trailer hitch options available at our premier Volvo dealer in Lexington have similar folding functions and nuances to the Volvo XC60 options. However, there are only two options; the determining factor is whether your Volvo XC90 has the available air suspension system.
Like the Volvo XC60 tow hitch options, you'll also need to order a trailer hitch ball to use it.
How to Use Your Volvo Folding Trailer Hitch
To stay safe, please do not stand near the center of your Volvo SUV's bumper while using the folding function, ensure the hitch is secured before driving, and do not kick the hitch. Our Volvo parts specialists can give you a walkthrough once it's installed, but here are some at-a-glance instructions for folding out your Volvo trailer hitch:
Find the button with a tow-hitch diagram in the cargo area of your Volvo SUV
Press this button once - the tow hitch will begin to fold outwards
The button will flash once it is unfolded
Push the tow hitch upwards to lock it into place
The button will stay illuminated if locking is successful
To retract the folding Volvo trailer hitch, use the following procedure:
Press the tow-hitch button to unlock the hitch
The button will flash once it is unlocked
Push the tow hitch downwards
The button will stay illuminated if locking is successful
Whether retracted or extended, trailer hitches with this folding feature make the added practicality even more enjoyable.
Find Your Next Volvo Trailer Hitch With Us
Ready to tow? Give our parts department a call, or browse our catalog today to order your next Volvo trailer hitch. You'll also find cargo-carrying Volvo roof box options and trusted installation for all your accessories when you do.