Ford Mustang Mach-E Vs Volvo XC40 Recharge: Comparison

---
Checking out a Ford Mustang Mach-E vs. Volvo XC40 Recharge comparison is only natural. Why? Both stand tall as compact SUVs with an electrifying twist. The Mustang Mach-E takes the iconic, sporty Mustang nameplate in a practical and eco-friendly direction on the Ford side of things. For Volvo Cars, the XC40 Recharge builds on the luxurious and agile XC40 nameplate with great all-electric virtues.
That alone should tell you quite a bit. The XC40 Recharge is your prime contender for all-electric luxury, while the Mustang Mach-E is your sporty choice. Or is it? You see, labels can be deceiving. The Mustang Mach-E loses out against the Volvo XC40 Recharge 0-60 mph time and in several other categories in which you may have thought it was the clear winner. Performance aside, both do achieve a similar goal brand-wise, namely the all-electric future lineups set out for both Volvo Cars and Ford.
Does the XC40 Recharge win against the Mustang Mach-E range and other electric-vehicle specs? Read on and find out. We know the XC40 Recharge is a clear winner in a true luxury-oriented design, standard tech, and luxury features, a more competitive warranty, and more. Just like our Tesla Model Y vs. Volvo XC40 Recharge comparison, let's dive into the details that make the two similar and that set them apart:
Ford Mustang Mach-E vs. Volvo XC40 Recharge — Electric Specs
---
A comparison of all-electric vehicles must begin with the battery specs. So, let's start with what you'll get in a Mustang Mach-E. Firstly, two battery sizes are on offer: A 68 kWh Standard Range (SR), and an 88 kWh Extended Range (ER) pack. Secondly, the range will vary depending on drive layout and trim. On the low end, a Mustang Mach-E Select SR eAWD gets an EPA-estimated 211 miles of range. A Mustang Mach-E California Route 1 ER RWD offers an EPA-estimated 305 miles of range on the high end.
For the 2021 Volvo XC40 Recharge, only one battery — a 75 kWh uni — is offered. So is the drive layout, only offered as an AWD vehicle. As for range, this gives you an EPA-estimated 208 miles.1 So the first round of the Ford Mustang Mach-E vs. Volvo XC40 Recharge battle is won by the Mustang Mach-E, but not by much.
In essence, the performance battle favors a Volvo XC40 Recharge for sale. That's because to outrun a standard XC40 Recharge, you'll have to opt for the higher-level trims and options on a Mustang Mach-E — with a much higher price to boot.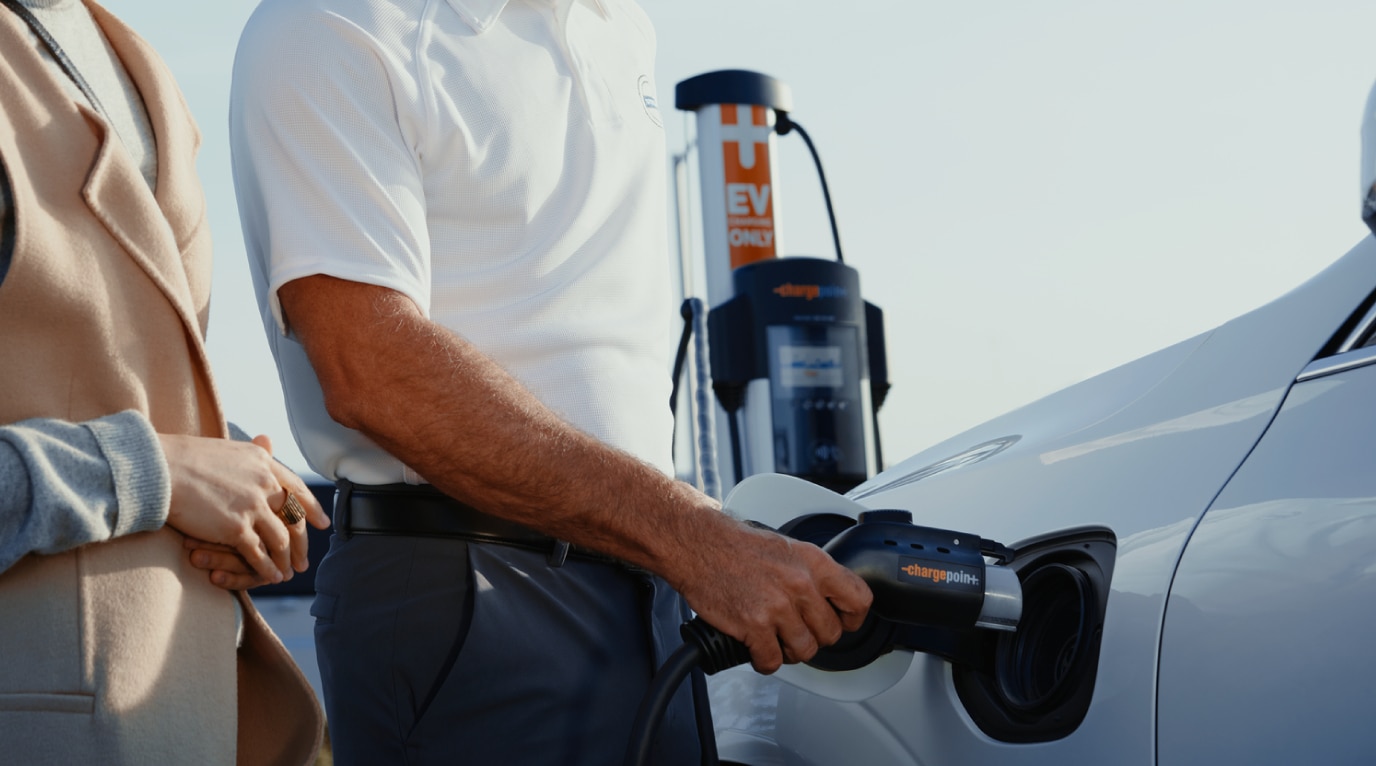 The second round begins with performance. On the XC40 Recharge, a dual-motor AWD layout is standard, while it's optional on the Mustang Mach-E. So what is the resulting Mustang Mach-E 0-60 mph time? Well, any XC40 Recharge does it in 4.7 seconds with her 402 horsepower output. For a Mustang Mach-E, the closest configuration is the Premium ER AWD. With it, you get 346 horsepower, a 4.8 second 0-60 mph time, and a starting MSRP higher than an XC40 Recharge. Meanwhile, the Volvo XC40 Recharge top speed is limited to 113 mph, while the Mustang Mach-E is limited to 114 mph.
Ford Mustang Mach-E vs. Volvo XC40 Recharge — Practicality
---
Performance SUVs are fun, but an SUV must be practical. Both of these contenders are very much so. Starting with cargo, you can bring along up to 57.5 cubic feet worth of it in an XC40 Recharge, while the Mustang Mach-E can carry up to 59.7 cubic feet inside. The Mustang Mach-E scores another win, with 104 cubic feet of passenger volume vs. 96 cubic feet on the XC40 Recharge. For pothole-ridden commutes, the Volvo XC40 Recharge ground clearance of 6.9 inches makes her more practical against the 5.7 inches a Mustang Mach-E offers.
Ford Mustang Mach-E vs. Volvo XC40 Recharge — Interior Features
---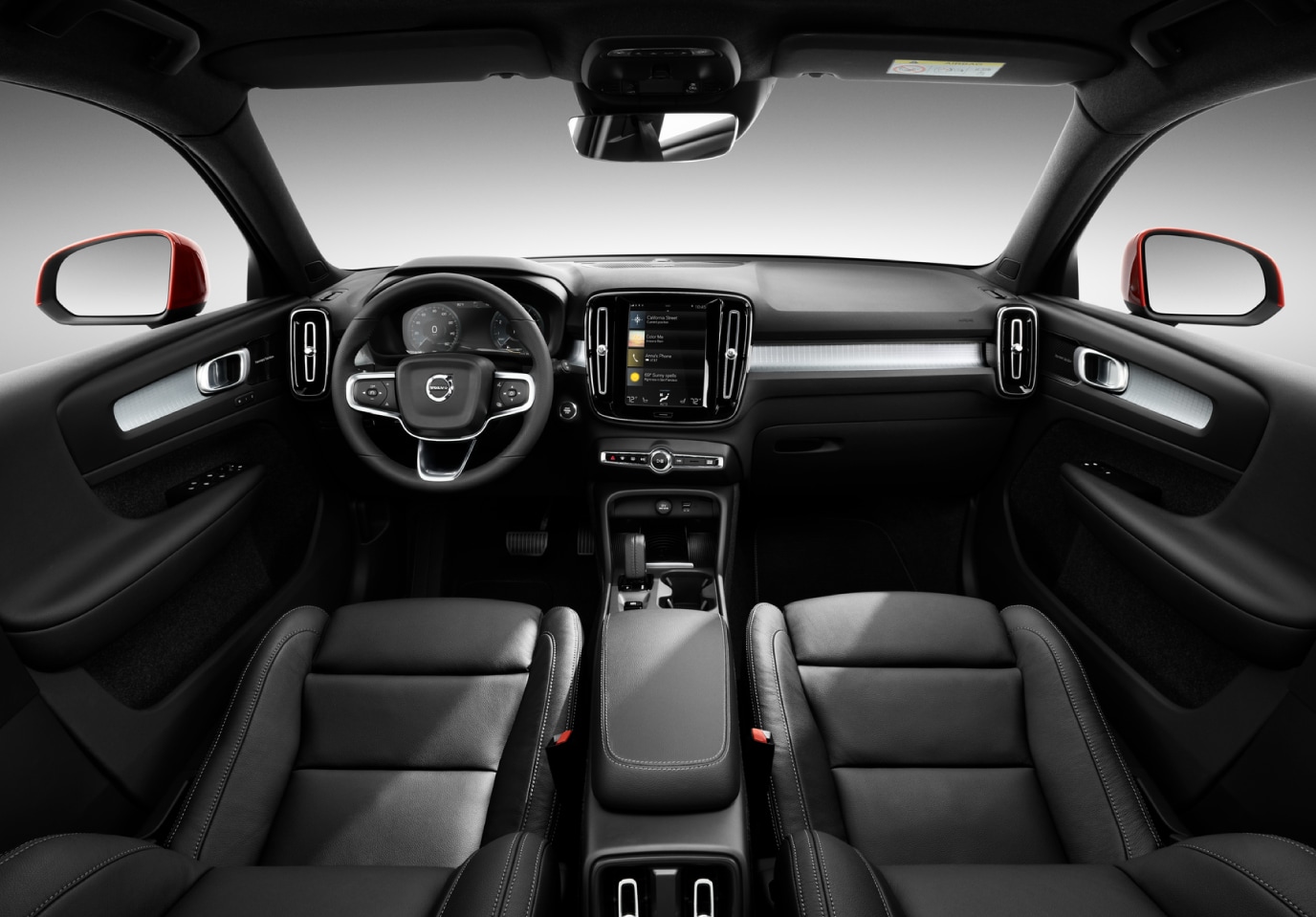 Where the XC40 Recharge begins to dominate is against the Mustang Mach-e interior. Ignoring numbers and specs, you'll find that the Mustang Mach-E is a more tech-oriented design, while the XC40 Recharge focuses on pampering you with premium materials, high-quality surfaces, and a luxury-first layout. A third-party Mustang Mach-E review says as much. That's not to say the XC40 Recharge isn't a tech tour-de-force. The tech battle begins with a standard 12-inch digital instrument panel on the XC40 Recharge vs. one that's 10.2-inches on the Mustang Mach-E.
The Mustang Mach-E wins in infotainment touchscreen size with one that's 15.5-inches, beating the 9-inch unit on the XC40 Recharge. On both a Mustang Mach-E and a Volvo XC40 Recharge, Apple CarPlay® and Android Auto™ come standard. Meanwhile, the XC40 Recharge offers a standard panoramic moonroof and heated seats with four-way power lumbar support. On the Mustang Mach-E, seat heating is the only part of that available — and is an optional extra.
Aside from other XC40 niceties like leather upholstery, the Mustang Mach-E also loses much of the convenience features comparison. For example, a power liftgate can only be had on the Mustang Mach-E by spending $4,705 to upgrade to the Premium trim, while it's standard on an XC40 Recharge. Overall, the XC40 Recharge is your ticket to first-class luxury.
Ford Mustang Mach-E vs. Volvo XC40 Recharge — Safety
---
| | Volvo XC40 Recharge | Mustang Mach-E |
| --- | --- | --- |
| 360-Degree Camera: | Standard | Available |
| Blind Spot Information System: | Standard | Standard |
| Lane Keep Assist: | Standard | Standard |
| Adaptive Cruise Control W/ Semi-Autonomous Driving: | Standard | Available |
| Pre-Collision Assist W/Automated Braking: | Standard | Standard |
---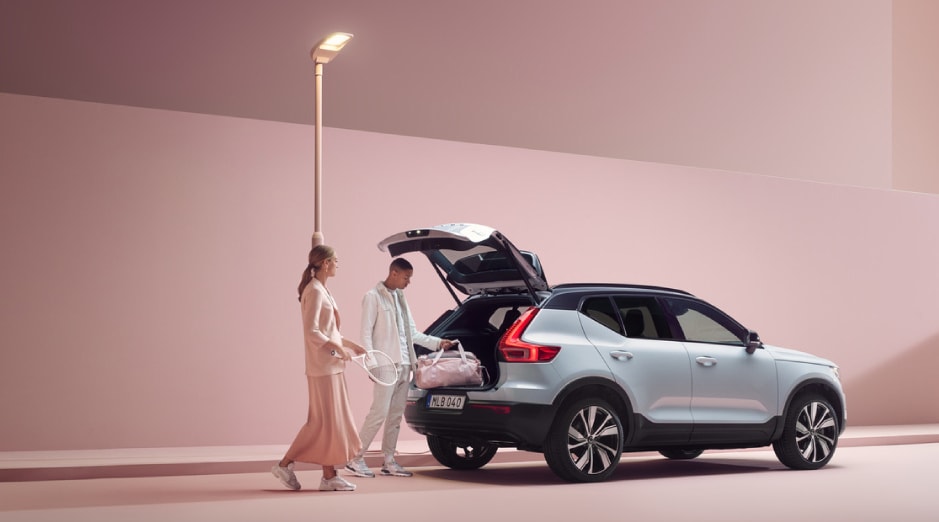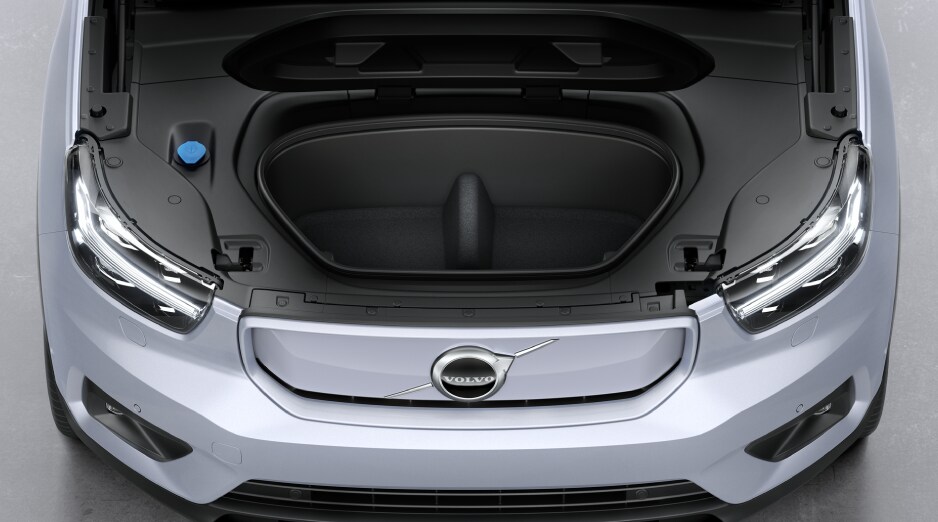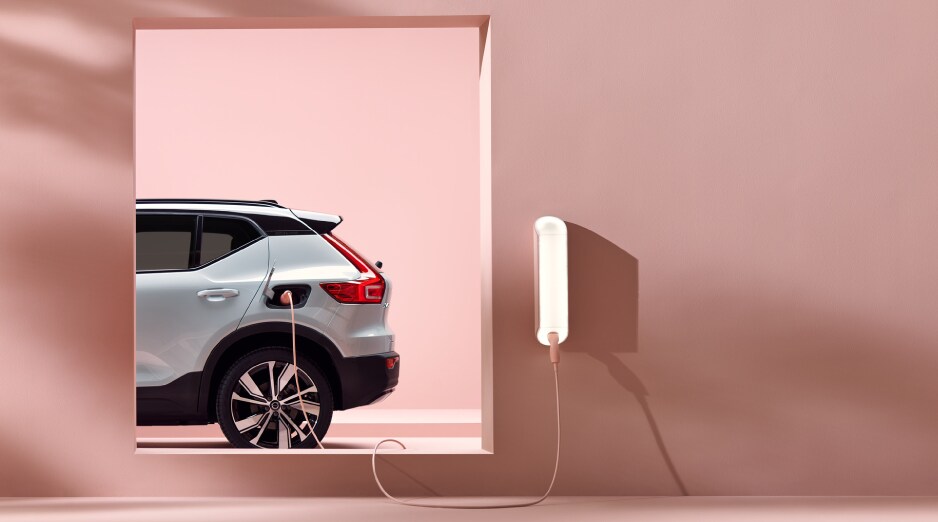 Ford Mustang Mach-E vs. Volvo XC40 Recharge — Warranty
---
On both SUVs, you'll get an eight-year/100,000-mile battery warranty. But the XC40 Recharge pulls ahead with a four-year/50,000-mile Limited warranty vs. the three-year/36,000-mile warranty on a Mustang Mach-E.
Frequently Asked Questions:
---
What type of charger does a Ford Mach-E use?
Every Ford Mustang Mach-E comes with a mobile charger that is a thoroughly modern dual-voltage system. With this charger, you can firstly charge up your Mustang Mach-E from a regular home wall outlet or use a 240V NEMA 14-50 high power outlet for fast-charging capabilities.
Is the Mustang Mach-E fully electric?
Yes. The Mustang Mach-E is the first all-electric crossover by Ford. The Mustang Mach-E may wear the "Mustang" name associated with old-school gas-powered muscle cars. Still, it's as modern as can be, with a practical everyday SUV layout and advanced electric capabilities. As well, the "Mach-E" name is a tribute to the iconic "Mach 1" nameplate used on higher performance Mustang models of the past and present.
How fast does the Volvo XC40 Recharge charge?
The charging speed of your Volvo XC40 Recharge will depend on what you use to charge her. At home, a stationary wallbox is your fastest option. With it, you can charge your XC40 Recharge with approximately 31 to 37 miles of range per hour. This is the rate you'll commonly find at public charging stations. That said, with a 150 kW DC charging station, your XC40 Recharge battery can be charged from empty to 80% full in approximately 40 minutes.
Find Your XC40 Recharge at Quantrell Volvo Cars Near Louisville
---
It was a close battle, but our winner is the XC40 Recharge for all of her stand-out standard luxury, Mustang-beating performance, and competitive features. If she's your winner, too, our family-owned Volvo dealer near Louisville is the place to find one. We'll be waiting for your call, and so will an XC40 Recharge of your own.
Disclosure:1Electric range and fuel economy figures based on EPA highway driving estimate.