2023 Volvo Electric Models: What's New?

Shop New Volvo Inventory
Who needs a crystal ball to see what the 2023 Volvo models will be about? Your friends at Quantrell Volvo Cars are thrilled to share some updates about one of our favorite brands. As you may know, Volvo Cars has committed to being environmentally neutral in the very near future. Closer still is their goal to have half of their sales consist of electrified vehicles by 2025. They've stacked the odds in their favor because all Volvo vehicles will be electrified as of the 2023 model year. Talk about giving yourself a fighting chance! Continue on this page to learn more about the Volvo Cars vision and the changes that are already underway.
Your 2023 Volvo Models: Declassified
The 2023 Volvo models are already in production and should be hitting dealership showrooms by the end of this summer. The Google™ infotainment operating system will be a huge upgrade across all 2023 models. This OS is already found inside select 2022 models such as the Volvo XC40 Recharge and the Volvo XC60. What's so special about this system? We're glad you asked!
2023 Volvo models can offer their drivers best-in-class connectivity. What can you do with your Google™ infotainment system? Just about anything you can imagine. If you've got a smart home, you can control anything inside the house from behind the wheel. Imagine you're on your way to the grocery store. Were you good on milk, or was it missing from the fridge? You can ask your Google Assistant™ to connect to your smart refrigerator. Your refrigerator can show you a real-time shot of what's inside your fridge. Milk situation handled.
Another benefit to the newly equipped Volvo electric SUVs, wagons, and cars will be the convenience enabled by your Google Assistant™. Now that your milk problem is taken care of, you just remembered that you were in charge of getting movie tickets for tonight. No problem. Ask your Google Assistant™ to arrange for your tickets, and it's as good as done. That was easy! As will be just about everything else.
---
More About 2023 Electric Vehicles
So, does the arrival of 2023 Volvo models spell the end for gas-powered models? Not yet. All models will be electrified, whether that's fully, partially, or below the radar. The latter refers to the new mild-hybrid powertrains. Let us explain.
Mild-hybrid technology does not use electrification to power your wheels as with plug-in hybrids or other Volvo all-electric vehicles. Electrification works on the engine to reduce engine load, thus making them more fuel-efficient. There's no recharging required. This powertrain is self-contained and offers the perfect transition into electrified vehicles. If you're looking for a trusted Volvo dealer in Kentucky to help you acquire yours, we're happy to assist.
Another big story for 2023 Volvo models is the anticipated arrival of the all-electric Volvo XC90. The plug-in hybrid version of that SUV currently enjoys a newly enhanced 455-horsepower drivetrain. We can only wonder how powerful a fully electrified version will be. Once the flagship SUV from Volvo Cars goes all-electric, all other models will soon follow. Be on the lookout for the all-new Volvo C40 Recharge crossover and the forthcoming Volvo XC100 SUV. Fully electrified Volvo vehicles are on the march. Keep your eye on our new Volvo SUVs for sale. They'll be arriving soon.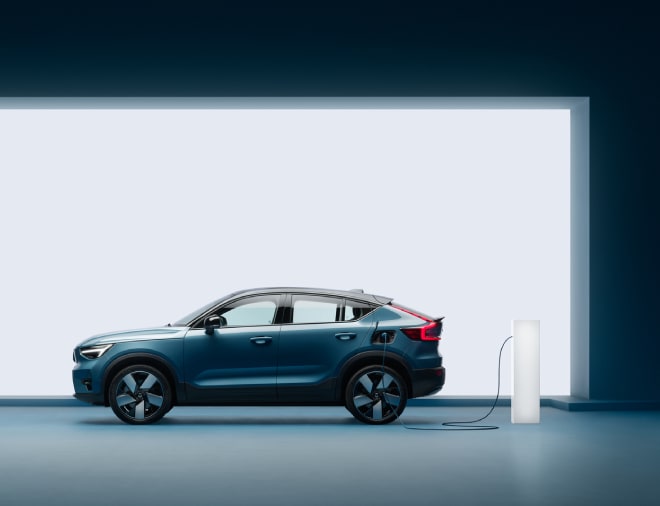 ---
2023 Volvo Models & Other Top Secret Info
Volvo Cars CEO Hakan Samuelsson recently announced that the brand would be issuing sweeping changes to how they name their vehicles. The sun will soon set on familiar alphanumeric badges and give way to more emotional names. The idea behind this is to fully embrace the brand's human-centric ideology. By giving the vehicles names that draw on emotions will be part of the brand story. Try saying Volvo Core, Volvo Plus, and Volvo Ultimate out loud. They may just appear sooner than you think. And what trim levels and models will those names replace? The crystal ball will reveal all in due time. Check back soon.
---
Make an Inquiry
* Indicates a required field